Gift list
Ah, thank you so much for asking but we donít have one.

As brilliant as London is, itís perhaps not the cheapest city in the world, so we would much rather you spent the money on travel and accommodation.

We are so honoured that many of you are coming from far away - Birmingham, Cambridge, Nottingham, Manchester, Great Yarmouth, Belgium and Australia(!) to name just a few distant places, this is gift enough.

note for the wayward guest:

We have been warned several times that despite encouraging guests to not bear gifts, we will get them anyway. Friends who will remain nameless have spoken of the horror of receiving wine coolers shaped like fishermen and antique vases that were later auctioned on ebay (winning bid, £2. It had no reserve).

If you are absolutely compelled to get us something, we would be grateful for your favourite book please. Signed on the inside front or somewhere similar with your name and perhaps a little note so we know what is from who.

If you feel you have to spend more, a bottle of your favourite 'special' alcoholic beverage. It may be something obscure, or fancy, or just yummy.

When we are old and grey, we can sit together on dark miserable nights reading our wedding books, pissed.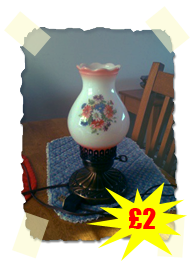 Home WhereAndWhen Accommodation GiftList RSVP Music Breakfast ThingsToDo Gallery Contact